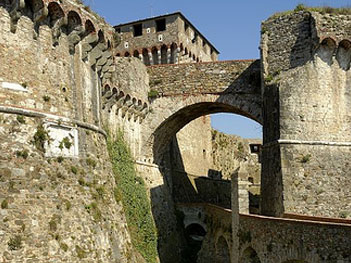 The agritourism "La volpe e l'uva" benefits from a very good position: from here you can visit all the Gulf of Poets and the Five Lands. The agritourism is half-way from Lerici, Fiascherino, Tellaro, Montemarcello and the area of Portovenere, the Five Lands.

Lerici , a typical little village on the sea, composed by houses of many colors gathered around the superb castle, is 10 minutes far (by car), and here you can visit also beautiful villages such as Tellaro, Fiascherino and Montemarcello; real pearls of the sea, which beauty charmed Byron, Shelley and other romantic poets.

In 15 inutes (by car) you can reach the city of La Spezia: from here you can start your visit to all the villages of the Cinque Terre (Five Lands). These villages can be reached also by train (leaving the La Spezia Station every half an hour in summer) or by boat, sailing on the vessels from/to the seaport in La Spezia all day long. The train is the easiest way to visit this area, since roads have many bends and elbows, and parkings are quite small. Remember that all the Five Lands are connected to Portovenere thanks to beautiful paths, a real joy for Italian and foreign hikers' eyes: the "Via dell'amore" (Path of Love) is well known and is from Riomaggiore con Manarola.

The beautiful village of Portovenere, declared Word Heritage of Humanity by Unesco as well as all the Five Lands, can be reached from La Spezia in 15 minutes (by car).

In La Spezia every kind of service is available. Here you can visit the Naval Museum (unique in Italy), the Amedeo Lia Art Museum, the CAMEC Modern Art Museum, and enjoy parks and gardends on the seaside, among the best in Italy.

Also the hinterland offers interesting visits to the charming villages on the hills all around (Caprigliola, Vezzano Ligure, Fosdinovo, Castelnuovo….).

From the agritourism "La volpe e l'uva" in 10 minutes by car you can visit the Medioeval town of Sarzana : enriched by beautiful monuments in its old town centre and by food specialities and interesting events is really worth a visit.

If you love water and nature you can enjoy the "River Park of the Magra River" taking a walk or riding your bicycle

If you love mountains you can chose among many excursions in the Apuan Alps nearby, up to 1.960 m. on the Pisanino mount top, the highest peak of these alps.

And last but not least, if you love night-life, the thousands of trendy pubs and nights of the Versilia will fulfill every expectation.
Agritourism on the Via Francigena, in the valley of the Magra river