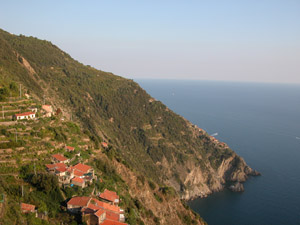 Tramonti is the ideal place to visit all the villages in the Cinque Terre (Five Lands); the first village, Riomaggiore, is only 10 minutes far by car.
All the Cinque Terre can be reached by car, by train (stopping in every small station) and sailing on the vessels from/to the seaport in La Spezia all day long.

But maybe the best way to enjoy this area is walking along the well-known paths from Portovenere to all the other villages of the Cinque Terre. Maybe the most famous path is named "Via dell'amore" (The path of love) from Riomaggiore to Manarola.

From Tramonti you can drive for about 30 minutes and reach the wonderful village of Portovenere , declared World Heritage of Humanity by Unesco as well as all the Cinque Terre.

From Tramonti you can drive and easily reach all the villages in the Gulf of Poets (this is the name the gulf of La Spezia is given), and discover they're rich in art and history; in particular, you can see Lerici, Tellaro, Montemarcello, real pearls on the seaside which fascinated romantic poets like Byron and Shelley.

In 10 minutes by car you can reach the city of La Spezia, where every kind of service is available. The most famous places of the cuty are the Naval Museum (unique in Italy), The Amedeo Lia Art Museum, the Camec Modern Art Museum, the parks and gardens along the seaside, among the best in Italy.

The medieval village of Sarzana, enriched by beautiful monuments in its old town centre and by food specialities and interesting events is really worth a visit.
If you love water and nature you can enjoy the "River Park of the Magra River" taking a walk or riding your bicycle.

If you love mountains you can chose among many excursions in the Apuan Alps nearby, up to 1.960 m. on the Pisanino mount top, the highest peak of these alps.

And last but not least, if you love night-life, the thousands of trendy pubs and nights of the Versilia will fulfill every expectation.
Cinque Terre: un panorama créé par l'homme